Article
New Feature Guide: Bind Online
Learn about At-Bay's new online bind capability and how to get policies issued faster than ever.
What's New?
You can now bind policies from within the platform in seconds. Binding online is an e-commerce-like experience where you can review your quote and complete the transaction all in one place. Review premiums, fees, and contingencies, adjust the policy period, and choose your continuity dates, then simply click "bind."
What can I bind online?
Any primary submission can be bound online, even if originally submitted via email or our API.
What if I have a security contingency?
You can "request to bind" any submission online with security and red flags. There is a drop-down for the contingency where you can upload any document/email chain confirming the contingency has been met.
How do I bind online?
Get a conditional binder—and potentially the policy—in three short steps.
Step 1: Select an option and review your coverages.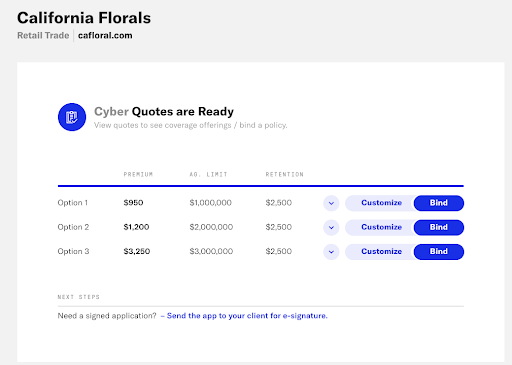 Double-check coverages, endorsements, and sublimits. If you need to, download documents (individually or as a packet).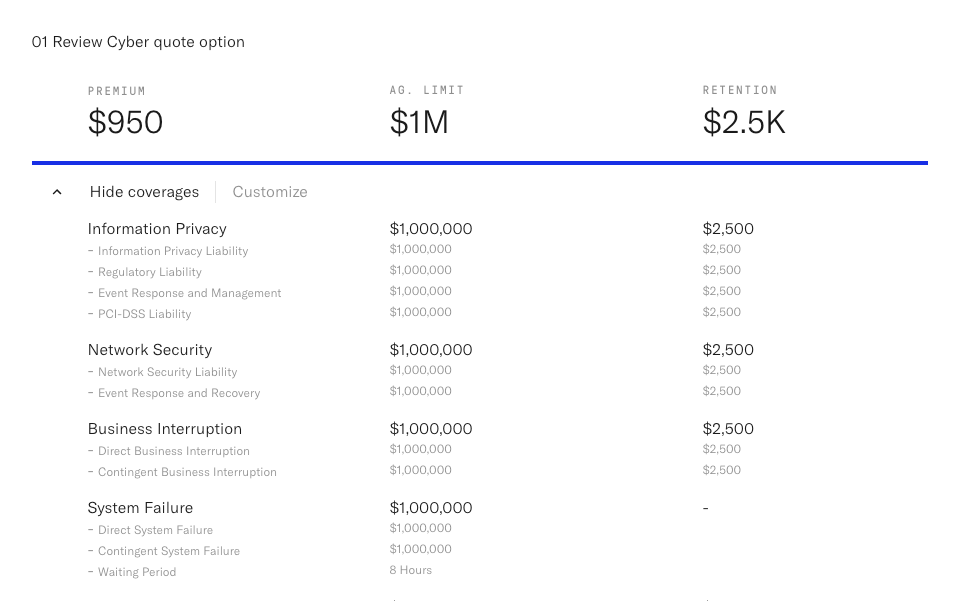 Step 2: Select your effective dates.
Select an effective date. We automatically populate the expiration date for one year later.
You can also update any claims made dates if you're matching expiring coverage (continuity dates, retroactive dates, etc.); however additional contingencies may apply.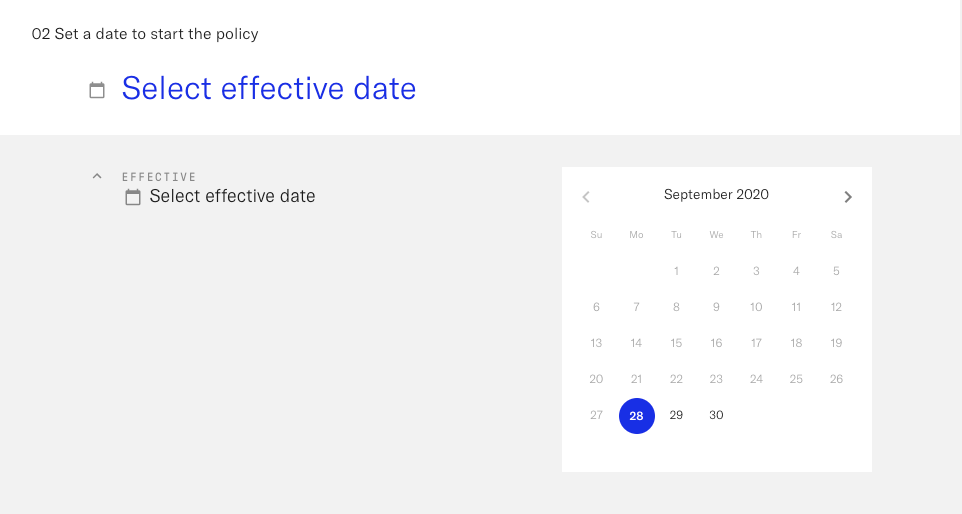 (claims made dates)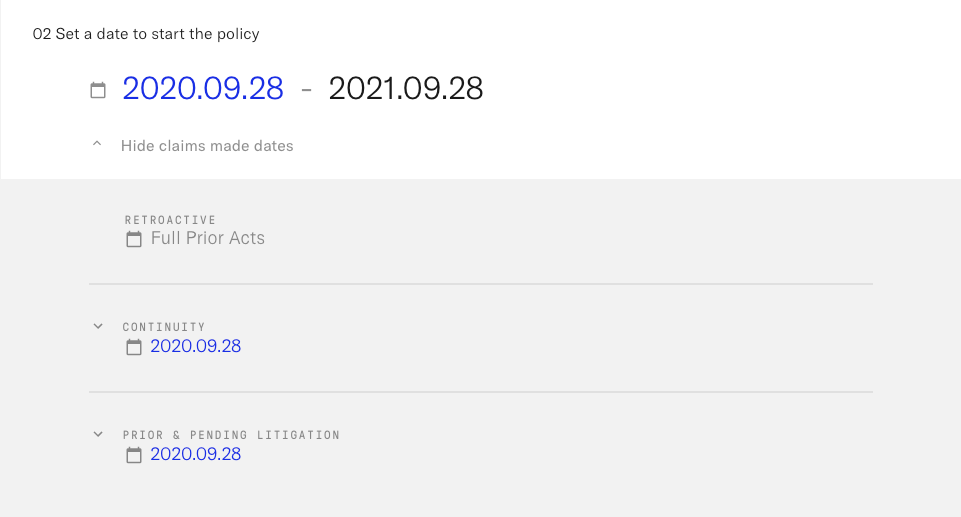 Step 3: Review your contingencies.
Check to see what contingencies are in place. If there are only post-bind contingencies, you can get a conditional binder immediately. The "bind" button will turn blue and activate right after you've selected the effective dates in this case.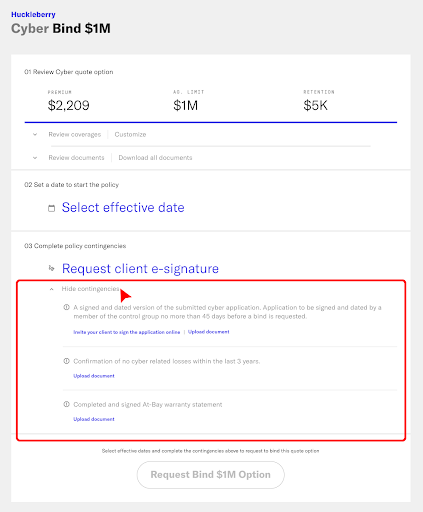 If there are any pre-bind contingencies, such as security red flags or previous claim information, an underwriter will need to review the bind request first.
If all contingencies are satisfied, the policy will be automatically issued upon clicking "bind."
Step 4: Request an e-signature.
For the final binder and policy, a signed application is always required. We offer electronic signatures via HelloSign to make this process as seamless as possible.
Click the blue text that reads "Request client e-signature."

A unique link for the signature is generated for the broker to share and assign to their retail broker.
The retailer can easily use this same link to reassign the signature for the insured to sign.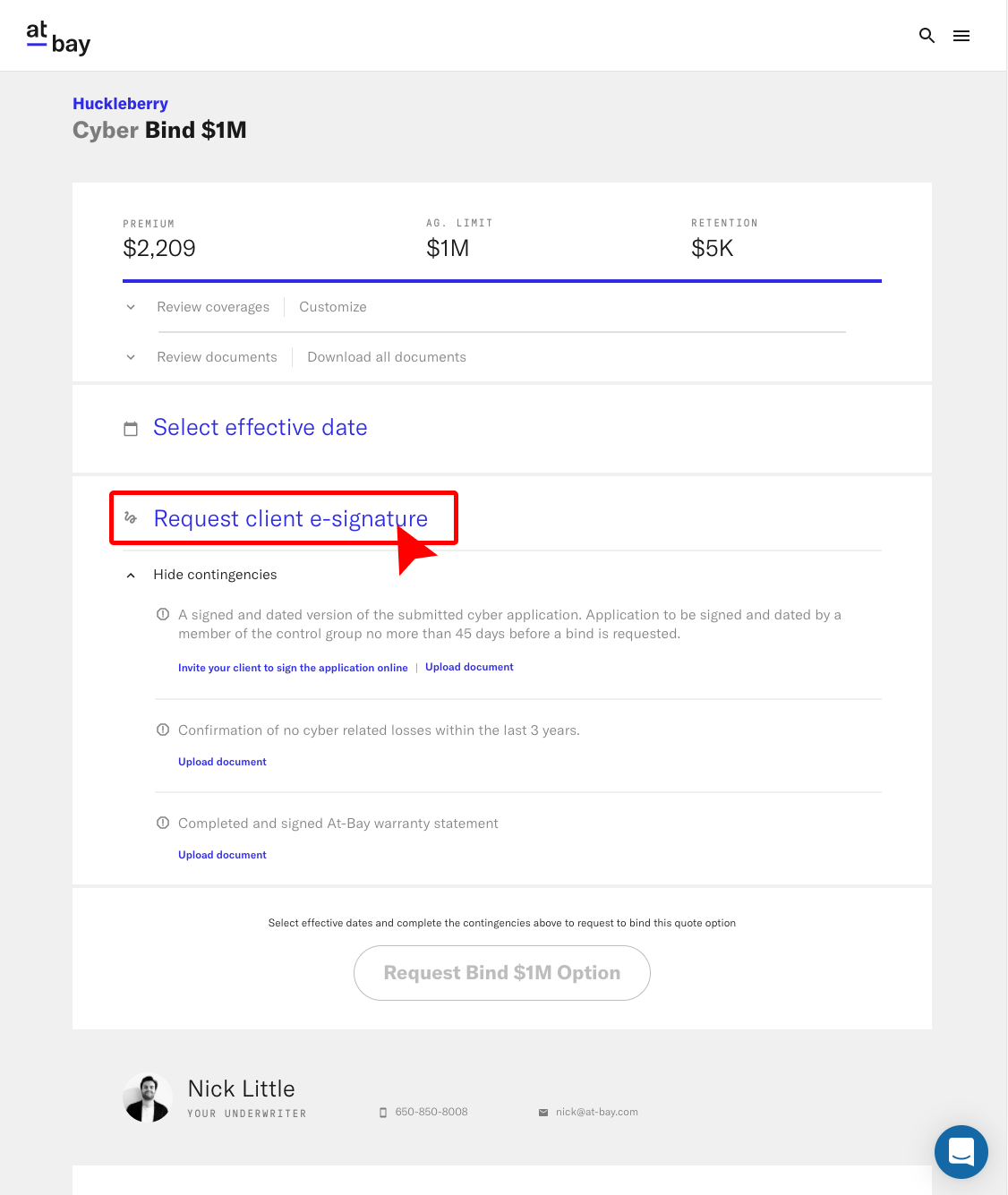 Step 5: Satisfying contingencies.
Uploading documentation for review. Although certain contingencies need to be satisfied in order to receive a binder, if you don't have them immediately upon requesting to bind, you can use the drop-down selection to upload each required document to satisfy a subjectivity. As you upload each document, an underwriter will be notified to review and approve the conditional binder or issue the policy.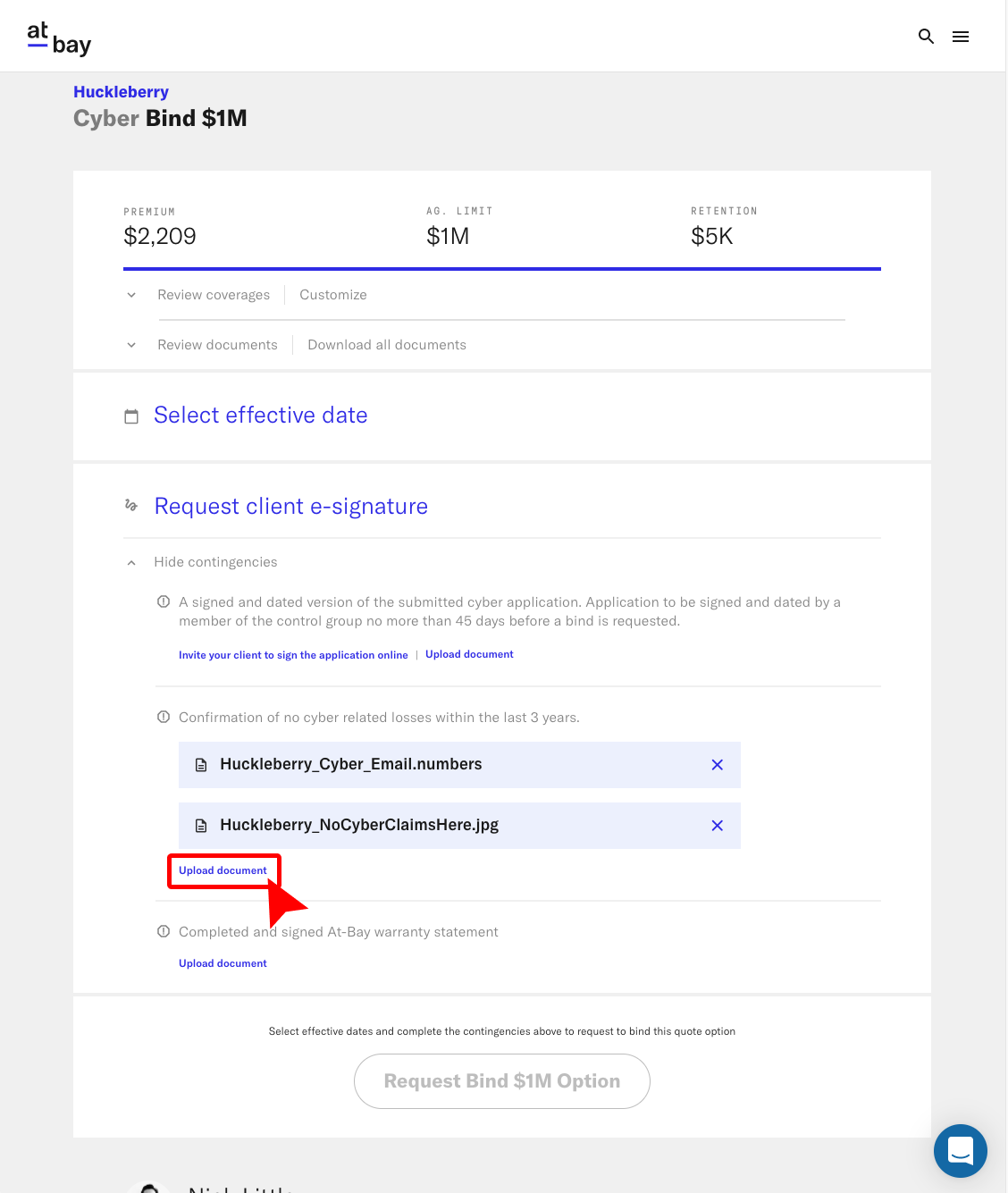 Step 6: Get the policy or conditional binder.
Once you click "bind" or "request to bind", the policy documents (binder, post-bind contingencies, and billing statement including commission breakdown) will appear immediately in your broker platform account. These documents will also be emailed to you for quick and easy access, and to share with your retailer or client.