Article
Introducing MPL: Modern Protection for Modern Businesses
Quote MPL in under 2 minutes on the Broker Platform
Today, we're launching a new Miscellaneous Professional Liability insurance product that provides modern protection for modern businesses.
Employment in the professional services sector has grown three times faster than overall U.S. employment in the last decade. These businesses come in all shapes and sizes, and many face increased exposure related to the services they provide.
Full-time employees, nine-to-five workdays, and brick-and-mortar offices are all things of the past. Modern businesses need reliable coverage. More importantly, they deserve an insurance partner who knows what it means to do business in a modern economy.
As a successful, fast-growing specialty insurance provider born in the digital-first economy, At-Bay was built to help businesses meet risk head-on.
Unlock More Business With Instant MPL Quotes
The decision to pursue MPL was inspired by our broker partners: More than 80% of At-Bay-appointed brokers provide professional liability coverage to small and medium-sized businesses.
As a broker, you can now place standalone MPL and Cyber on our Broker Platform, where quotes are generated in under 2 minutes. You also get the rest of the benefits of our automated underwriting platform, such as:
Customizing your quotes in just 30 seconds

Bind and sign entirely online in 3 easy steps

Managing all At-Bay accounts in a single place

With the addition of MPL, the Broker Platform is now an easy way to get instant quotes for multiple lines of business — allowing you to maximize efficiency and unlock more business.
Seamless Digital Quoting Experience
Traditionally, MPL has been a product that's difficult to automate. Even for small businesses, the manual underwriting process has an average turnaround time of 2-3 days.
Knowing that speed is a top priority for our brokers, we designed our MPL product as a digital-first product and streamlined the application journey for our brokers. You can now leverage our intuitive and dynamic MPL application, which updates as you go to ensure you're only answering relevant questions.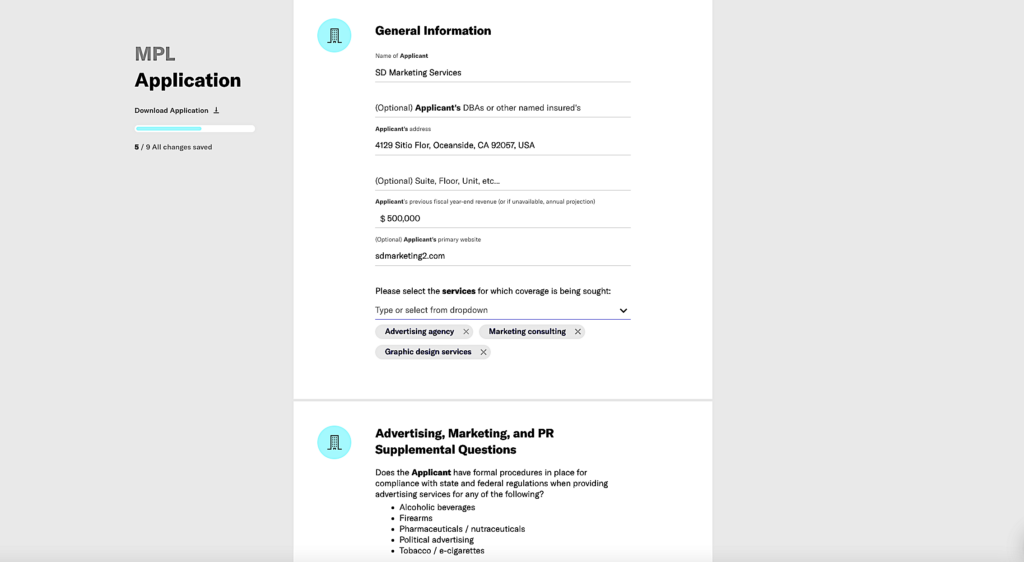 MPL is exclusively available on our Broker Platform. Our emphasis on automation is geared toward providing you, our broker partners, with bindable terms in the shortest amount of time.
Register for a Broker Platform Training Session 
Broad Appetite Built For Wholesale Brokers
We know all too well that it's often difficult to place insurance coverage for businesses in certain industries. What makes our MPL product competitively differentiated is that we're not shying away from historically complex business classes, such as real estate, property management, and advertising.
At-Bay's MPL appetite consists of more than 50 diverse business classes — with plans to quickly reach 150 classes. As a broker, you can get instant quotes up to $2 million in limits for businesses up to $25 million in revenue, or $5 million in limits with underwriter review.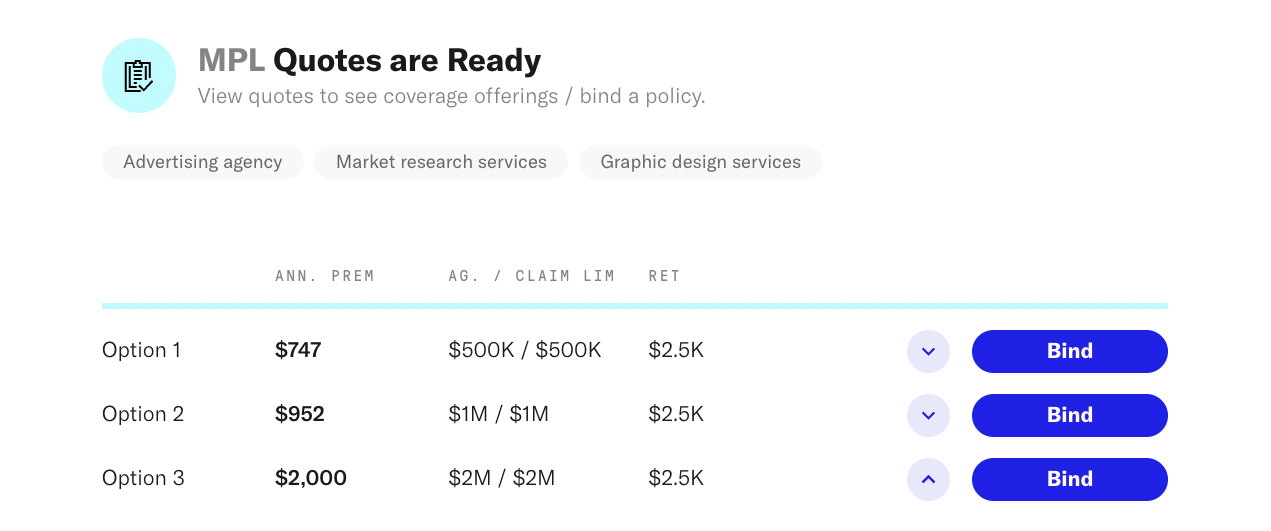 Same Great Service You've Come To Expect
As our insurance products diversify with the launch of MPL, the most important thing that remains unchanged is our commitment to top-tier service and expertise.
MPL from At-Bay is supported by the same experienced underwriting team that has supported our Cyber and Tech E&O products for years, many of whom have specialized knowledge in the professional liability space. And should your client experience a claim, you can rest assured that you'll be supported by our in-house claims team with decades of deep experience working with a broad range of clients from Fortune 500 companies to mom-and-pop shops.
How To Get Started
Log in to the Broker Platform today to start quoting MPL. Answer a few simple questions and get a bindable quote in under 2 minutes.